Top 10 Online Video Editing Courses
Let's 'cut' to the chase. Video editing courses can be really helpful if you're working with any form of motion content.
Recommended for you: Become a pro at video production and editing with our online course. Join today and get the first 4 weeks for free!
Whether you're creating a personal YouTube vlog, putting together a series of wedding videos, creating a documentary or short film, or even a big-budget TV series or movie, a video editing course can help you gain creative control over your content. You won't have to rely on video editors to do the job and worry about how your content will flow, because you will have the skills to do the job.
Having said that, you can learn a broad range of skills and techniques involved in video editing. As a result, many beginners and moderately skilled professionals find it hard to zero-in on the perfect course for them.
But don't worry, because we have curated the best online video editing courses out there. These will help you cover everything, right from the basics to advanced editing skills. Let's get to it!
Pluralsight's Video Editing Courses
Pluralsight's video editing courses have something for everyone. Indeed, they have a huge library full of video editing courses that cover a wide range of topics – right from the fundamentals of video production and motion graphics, to the various editing software such as Premier Pro, After Effects and Photoshop, and even mastering audio for video content. In terms of film editing courses, Pluralsight offers great options for both beginners and more experienced editors alike.
Upskillist's Diploma in Video Editing and Production
While most courses focus more on the art of editing itself, Upskillist's Diploma in Video gives you a much broader perspective on the world of motion content. Simply put, there's no doubt that an in-depth understanding of motion content will help you become a better editor, as compared to just picking up the techniques related to a single editing tool. The video editing course is spread out across 8 interactive lessons, starting from an introduction to capturing video, to apertures and lenses, and compositional techniques as well.
LinkedIn Learning's Video Editing Tutorials
Learn Video Editing
Learn everything you need to know, from capturing footage and sound correctly, to piecing everything together in post production.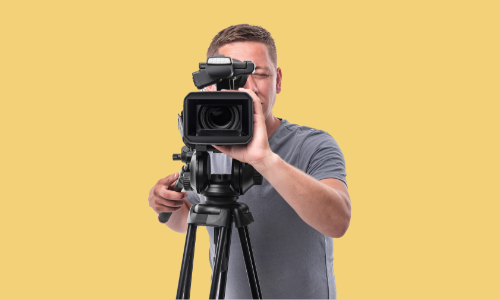 LinkedIn Learning's library consists of more than 200 video editing courses. Starting from the basics in video editing, you can choose from many different types of courses, depending on your tool of preference. They have video editing courses across software such as Final Cut Pro X, Premiere Pro, iMovie, After Effects, Media composer, etc. All in all, whether you're looking to start from the basics or wanting to improve your ability with regards to a specific video editing tool, LinkedIn Learning is a good option.
Skillshare's Video Editing Courses
Skillshare offers a huge range of video editing courses. They have courses such as 'Video editing with Adobe Premiere Pro for beginners', 'Video editing with Final Cut Pro – From Beginner to YouTuber', and quite interestingly, a course on 'How to Vlog! Film, Edit & Upload to YouTube'! Check it out if you're looking for online filmmaking courses that are informative, but are also fun to learn from at the same time.
The American Graphics Institute
The American Graphics Institute provides pay-per-course programs that are instructed live. Their video editing courses range from introductory lessons to advanced video editing techniques. If you're looking for highly-interactive classes on topics like Premiere Pro, After Effects, Final Cut Pro, etc., and are willing to spend some extra money for a more personalized learning experience, go for it!
Udemy's Video Editing Courses
With close to 800,000 students onboard their video editing courses, it's safe to say that Udemy is a popular choice for video editing enthusiasts. And for good reason, because they've got courses for a plethora of topics. There's a Premier Pro course for beginners, a video editing technique course for broadcast filmmakers, a Final Cut Pro X – Video editing mastery course, an iMovie master course, and the list goes on and on. Basically, no matter what your experience level is, or which tool you're looking to gain mastery over, Udemy will have the right video editing course for you.
Larry Jordan's Video Editing Courses
If you're looking for video editing courses from someone who has been there and done that, look no further than Larry Jordan. He's an award-winning editor who has worked in the American television industry for more than 50 years and has offered online video editing courses since 2003. His video editing courses cover everything, right from the fundamentals of editing tools such as Premiere Pro, After Effects, Final Cut Pro X, etc., and all the way up to advanced video editing techniques.
Ripple Training's Video Editing Courses
Not into using Adobe tools for video editing? Are video editing programs like Final Cut Pro X, After Effects, iMovie Maker, etc. your preferred tools of choice? Well then, Ripple Training is where you should head to. They offer online video editing courses for tools other than Adobe, and their downloadable instruction videos are of an incredibly high standard. Highly recommended if you're looking for video or film editing courses across niche tools.
Inside the Edit's Video Editing Courses
Inside the Edit provides some really cool video editing courses, but for the slightly more experienced editors. In their video editing courses, you won't actually learn about software tools, but the actual dynamics behind creative editing. They are developed by professional editors and will help you understand the thinking behind hundreds of creative techniques used in documentary and television content. These are film editing courses that will help you understand more about the art, rather than the science, behind editing.
CreativeLive's Video Editing Classes and Lessons
CreativeLive offers both paid video editing courses and free lessons. The paid courses include a complete guide on Adobe Premiere Pro, an iPhone video editing course, and an Adobe Photoshop video editing course. Their course on Adobe Premiere Pro is an absolute masterclass in the software and will equip you with all the tricks and techniques you need to succeed with it. Also, the free lessons include some really handy short clips on adding and trimming videos, editing video in Adobe Lightroom, etc.
The Final Cut
All in all, there are many wonderful video editing courses and online film making courses out there. Each has its own unique strengths, so all you have to do is pick one according to your skill level and tool of choice.
Join 12+ million students who already have a head start.
Sign up today and get 4 weeks free!
No commitments. Cancel at any time.
To learn more about how Upskillist can help you click the button below :