The Small Business's Guide to Local SEO on a Budget
As a small business owner, it's vital that you optimise your website to boost your SEO and gain more organic traffic. And, if your company has a physical location or a lot of customers in one area, you should be implementing a local SEO strategy as well.
In this article, I'm going to take a look at how you can manage your local SEO strategy on a budget. Read on to find out more.
Make sure you claim and optimise your Google My Business listing — it's free!
First things first: claim your Google My Business listing.
When you use Google to search for a local business, you'll probably notice there's a sidebar full of information like nearby companies' phone numbers, addresses, and more. It's handy, right? To ensure your business appears here, make sure you claim your listing and optimise it.
There are plenty of benefits to having your own Google My Business listing. This will make your company easier to find through an online search, you'll be able to build trust with prospective customers as you'll appear more professional, and you can leapfrog your competitors on the search engine results pages (SERPs).
It's also worth noting that Google has recently introduced new features to help businesses weather the ongoing pandemic. Roadside Dental Marketing has a great guide to optimising your GMB listing for a COVID-19 reopening, which is well worth reading if you would like to learn more about making the most of these features.
To fully optimise your listing, make sure to include correct and updated contact information, business hours, relevant photos, and respond to all of your customer reviews.
Get Certified in SEO
Improve your digital marketing skills, and become an expert in SEO.
Create a page for each of your business' locations
If your business has multiple locations, dedicate a webpage to each when planning your website. You'll want to include the correct phone numbers, addresses, photos, pricing, and any other relevant information for each of your bases. This gives Google and other search engines a better understanding of where you are. Plus, if customers are looking for a business like yours in their area, they may come across your landing page and get the most helpful information.
Let's take a look at some businesses that are already taking advantage of this technique.
Bay Property Management Group serves clients all around Virginia, Maryland, Pennsylvania, and Washington D.C. For each county they serve, there's a specialised page.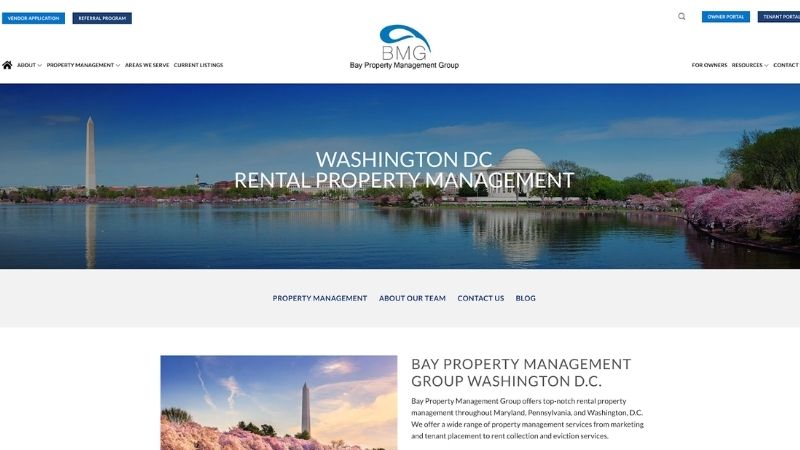 Their rental management page for Washington D.C., for instance, features everything a prospective customer in the area would need to know, including contact information, start-up fees, the address, and more. This type of information, in addition to the specialised body copy talking about how they serve the area, gives Google a better idea of where they're located.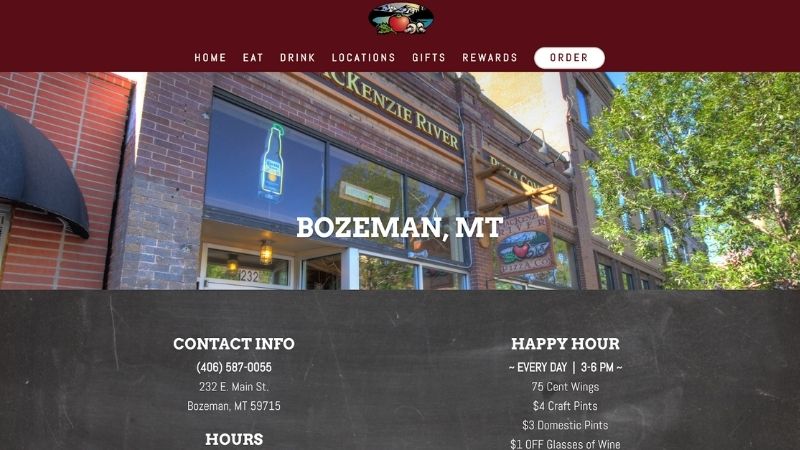 Mackenzie River Pizza Company does something similar with its location pages. Their Bozeman Montana page, for instance, includes relevant information like reviews, contact information, photos, and opening hours. Plus, they have a section for each location about weekly specials or happy hour deals! This is helpful to search engines, as well as pizza-hungry customers.
Publish content with a local angle
Creating content for your blog with a local angle also gives search engines a better idea of your location. There are tons of ways you can incorporate local content! When putting together a content marketing strategy, think about what kinds of information your target customers are going to be interested in, and how you can put a local spin on it.
For example, a hotel could put together a listicle of the best restaurants to eat at within walking distance, or a local fishing guide could do a round-up of the best fishing spots in the area. These types of topics will help you rank for relevant keywords and give you a boost on the local SERPs.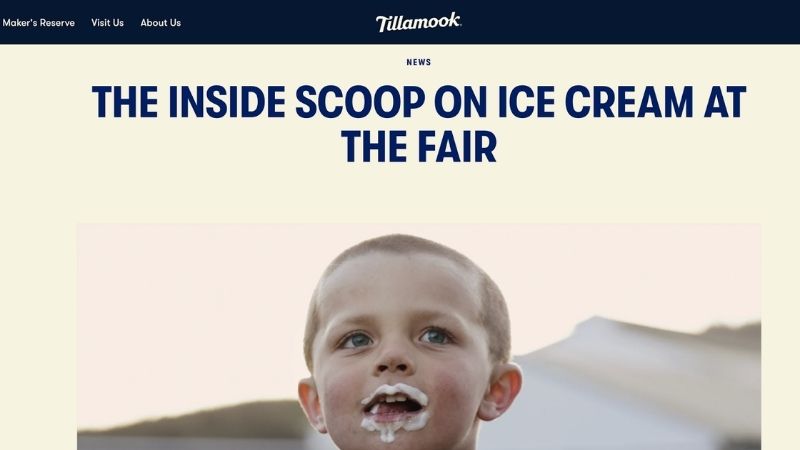 Tillamook, a dairy company based out of Tillamook, Oregon, does this well with their article on their involvement at the Tillamook County Fair. In the article, they discuss the charity aspect of their ice cream booth, which donates a portion of profits to the local 4-H chapter. They also have a charming breakdown of some of the customers that stopped by their station. This humanises the company in addition to boosting their local SEO.

Could you publish similar content on your blog?
Target local keywords with your copy
When conducting keyword research, be sure you're targeting local keywords. For example, if you have a coffee shop located in New Mexico, there's no need for you to rank for the top coffee shop searches nationwide — but you should do everything in your power to rank well for coffee shops in your area. This is where local keywords come in.
As you would with any keyword research strategy, you're going to want to utilise a keyword research tool like Google Keyword Planner — this particular application lets you filter your searches based on a specific location, as well, which can help you when targeting local keywords. Let's take a look at some of the information that comes up when typing in "best restaurants NYC."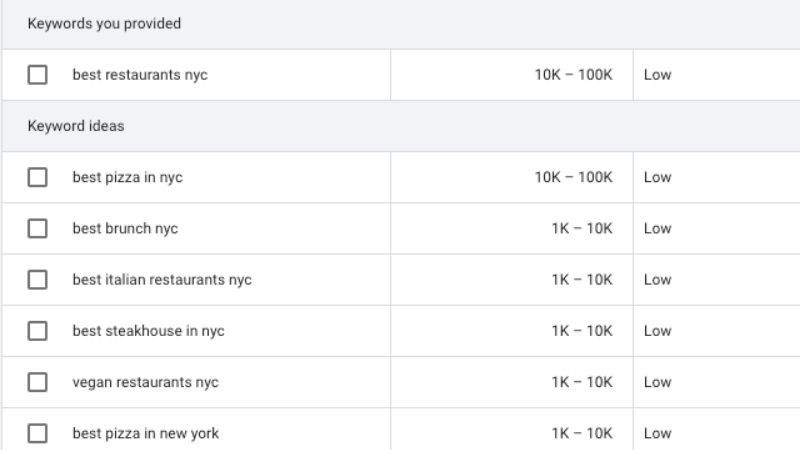 Right off the bat, you can see which relevant keywords you can target that will help to send the most relevant customers your way. Just as an example, if you run a burger joint that has outdoor dining options, you could consider targeting the last two keywords on this list — "best burger NYC" and "best outdoor dining NYC".
Take a look at how well New York's Original City Guide targets local keywords in their blog content.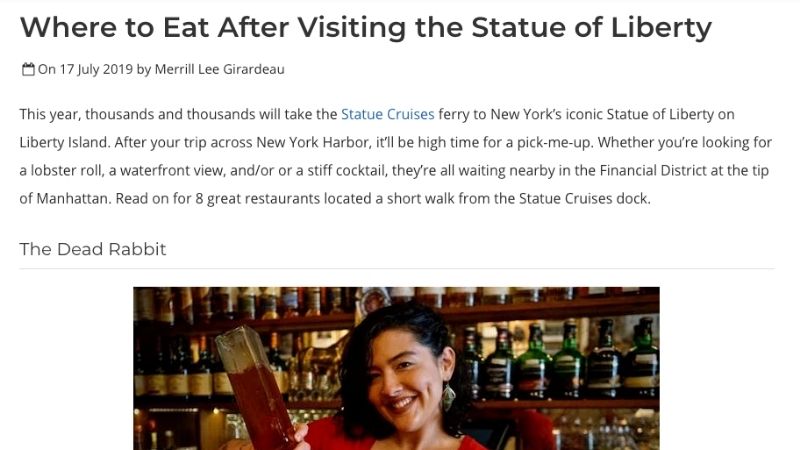 This particular article ranks second (just below TripAdvisor) for "restaurants near the Statue of Liberty".

The website is a guide to the whole city, so a lot of its content ranks well for generic searches like "best restaurants in NYC". But, by also targeting longer-tail local keywords, it ranks for specific searches based on landmarks, too. Think about whether replicating this approach could work well for your site.
You can target local keywords with the copy on your service or product pages, too. For example, Florin|Roebig is a law firm based in Orlando, Florida, and they make this very clear on their landing page for legal advice about car accidents.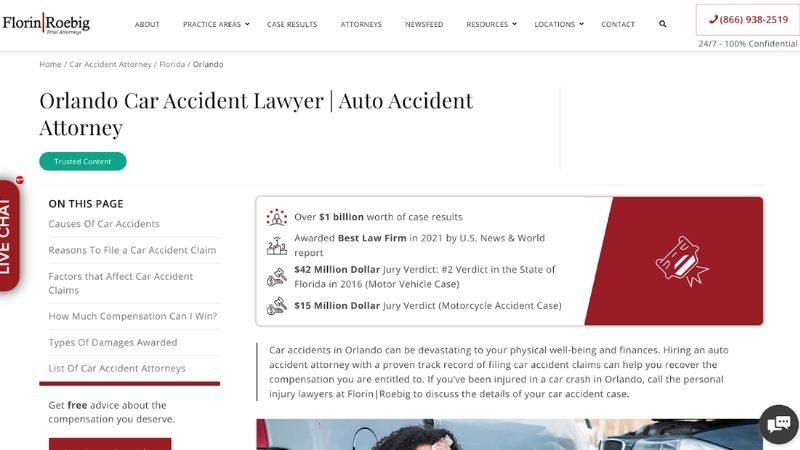 As well as talking about the services they offer, the company includes its location in the page title tag, header, and body copy. Not only does this mean prospective customers will be able to tell whether this firm can help them straight away, but this tactic also ensures search engines like Google know exactly where the company is based. This will help them to send the right people to this website.

If you only serve a particular state, county, or city, you need to make this as obvious as possible. Targeting local keywords in your blog posts, guides, and service page copy is a very effective way of doing this.
Come up with a local link building strategy
Link building is one of the most important SEO tactics out there! This is a process that involves convincing other high-authority websites to link back to your web pages in some way. Google takes this as a vote of confidence in your knowledge and expertise and will give you a boost in the search rankings as a result. Local link building works in a similar manner and can help give search engines a better idea of where you are based.
Think about how you can build links with businesses and influencers in your community. Backlink building can often work for both parties, say in a situation where you write guest blogs for each other's businesses. You can start by targeting websites related to your niche — for instance, if you sell clothing, you could get in touch with a local shoe store to see if they would be open to creating a styling guide that features your products and a link back to your website.
You could also contact the local press about upcoming events and product launches, create videos that those in your area will want to share, or provide a testimonial for a local business you've shopped with. All of these are great ways to earn links back to your website.
Ask your customers to leave you Google reviews
Reviews are great. They give your customers a voice, they help you build trust with prospective consumers and, perhaps best of all, they can help you rank higher on the SERPs. Google reviews show up in your Google My Business listing and can help searchers immediately learn more about your products or services.
Encourage people to leave reviews about your business — and be sure to respond to the reviews you get, both positive and negative. Even a short "Thanks for the feedback!" will ensure people feel heard. Of course, if someone had a bad experience, it's worth reaching out to them to see how you can make it right, too.
Google reviews can also help to fill gaps in your business information that you might not have thought of otherwise. Say you run a sandwich shop that has a special vegan menu, but your site doesn't mention that — if an appreciative vegan leaves a review mentioning this, Google will know they can boost your ranking for searches surrounding vegan sandwiches in your area. Although it's a good idea to add that information to your website, this can provide the necessary information in the meantime.
Above all, it's important that people have faith in your reviews. You can help ensure this by responding to negative comments and being transparent in the process. Make sure people know if any reviews are incentivised or if your company vets reviews beforehand, for example.
Want to learn more?
If you have a physical location or a lot of customers in one area, you need to focus on local SEO — it's that simple!
Of course, strategies will vary from business to business, but fortunately, you now have some great tips that will help you get started. By using local content and keywords, optimising your Google My Business listing, and utilising Google reviews, you can ensure you show up for relevant searches in your area.
And, now that you know all about local SEO, you may consider looking into paid marketing as well — for more information, check out Upskillist's post on everything you need to know about SEO vs. SEM.
Join Upskillist's online SEO and digital marketing courses.
Sign up today and get a free 4-week trial!