SEO Vs SEM – Everything You Need To Know
The emergence of a digital architecture has taken the world of marketing by storm. Businesses do not have to rely on traditional modes of product promotion anymore. Instead, they can employ a variety of online channels to enhance their reach, lower their costs, build their brand and improve their ROI. As a result, the digital marketing revolution has begun to witness tremendous bursts of growth. So much so, that the worldwide expenditure in this arena is expected to rise from about $306 billion in 2019 to approximately $375 billion by 2021!
However, when it comes to implementing digital marketing tactics , most organizations often tend to get confused between two major terms – Search engine optimization (SEO) and Search engine marketing (SEM). While some marketers believe that both of these tools can be used interchangeably, many others are of the opinion that there is an inherent distinction that separates the SEO outlook from the SEM approach.
If you too have been wondering what SEO Vs SEM actually entails, here is a detailed explanation to help you understand the basic difference between SEO and SEM –
What Is SEO?
SEO is essentially a marketing strategy that uses a variety of innovative methods to organically rank a website at the top of the search engine results page (SERP). This high ranking builds value, establishes authority, increases visibility and drives traffic towards the featured web page.
In order to accomplish the aforementioned purpose, SEO generally employs three major techniques. These are:
On-Page SEO – content creation, keyword research, page layout, image optimization, and UX/UI design
Technical SEO – site loading speed, inter-device operations, search engine crawling, data security and page indexing
Off-Page SEO – link building, local listings, social media, influencer outreach, and directory profiles
What Is SEM?
On the other hand, SEM is a broad marketing methodology that uses a plethora of paid strategies to help a website feature on the top of SERP. This doesn't just improve the visibility of the said website, but it also ensures that every time a linked keyword is searched for, the website's ad appears, even before the actual organic results.
By and large, SEM tends to include techniques like:
Search engine optimization (SEO)
Pay-per-click (PPC) advertising
Local SEO
Display advertising
Re-marketing
Let us further understand the difference between SEO and SEM by analyzing the following example: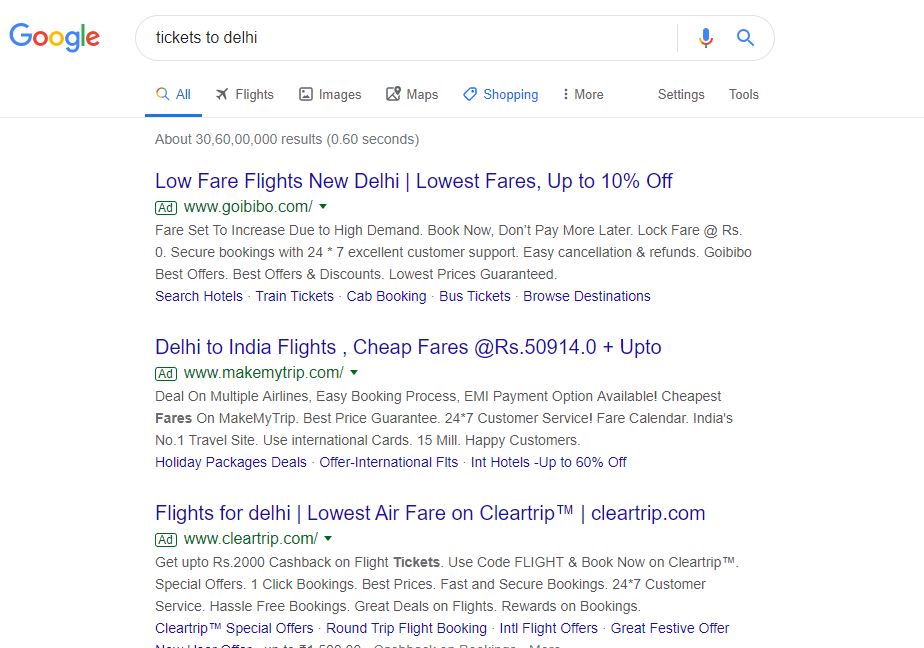 When you search for 'Tickets to Delhi', the first few results are paid ad campaigns, which appear at the top of the SERP. These ads are primarily a product of SEM. Alternately, the organic results which follow these ads, are a product of SEO. Therefore, in SEO Vs SEM, the former provides natural search engine rankings while the latter offers paid search engine rankings.
Similarities Between SEO And SEM
Before venturing into the differences between SEO and SEM, it would be wise to first understand the fundamental ways in which both these strategies are similar. SEO and SEM hold a deep kinship with regard to:
Generating leads, driving traffic and improving conversions
Increasing brand awareness and enhancing click-through-rates (CTR)
Conducting keyword research and targeting specific keywords
Understanding the audience and creating buyer personas
Carrying out continuous monitoring, supervision, and optimization
In other words, both SEO and SEM aim to boost your website's ranking while building brand awareness. However, this is precisely where the resemblance between these digital marketing strategies ends. Beyond this point, the SEO and SEM difference is way too stark to miss.
Difference Between SEO And SEM
In order to clearly understand the distinction between SEO Vs SEM, let us glance at the following table:
| SEO | SEM |
| --- | --- |
| Being organic, SEO based results are not marked or labeled at all | Being paid, SEM-based results are marked with a small Ad icon on the top |
| SERPs provide small snippets based on the content as additional information for SEO articles | SERPs provide ad extensions like phone numbers, callouts, product details or highlighted offers as additional information for SEM articles |
| No charges are incurred on SEO articles | Charges are incurred every time a user clicks on an SEM result |
| SEO does not allow you to delineate your target audience | SEM allows you to filter your target audience based on their age, gender, location, income levels, and purchase habits |
| SEO is a long-term strategy, a building which can take somewhere between 3-6 months | SEM is a short-term strategy whose results can be made visible within the time span of a few minutes |
SEO And SEM Difference
1. Search engine results page (SERP)
2.Additional Information
3.Expenses
4.Target Audience
5.Impact
Apart from these, the difference between SEO and SEM can also be observed in terms of:
Testing – The chief SEO and SEM difference usually arise in the context of testing and supervision. While SEO does not allow for instant testing, SEM provides an adequate opportunity to do so. You can immediately revise your ads, change your content or target new audience by simply turning your ad on or off. This flexibility helps SEM gain a larger customer base.
Timing – Another major difference between SEO and SEM arises with respect to timing. SEO continues to add value to your brand, especially over a compounded period of time. SEM, however, does not add any short-term or long-term value whatsoever. It is active only as long as you are paying for your web results to feature on top.
Visibility – In the comparison between SEO Vs SEM, SEO holds an edge in terms of visibility, if you are ranked on the first SERP. Research has revealed that 70%-80% of search engine users focus only on the first few organic web results. Nonetheless, if you are not ranked on the first page, SEM is likely to outperform your visibility, particularly with regard to CTRs.
These intrinsic differences between SEO and SEM, lend both of these approaches a certain level of distinct but productive hold over their respective marketing domains.
The Way Forward
As you begin building your brand, it would be preferable to move away from the needless competition between SEO Vs SEM and instead shift towards a more cooperative and harmonious marketing mix. This would include the use of both these strategies, in accordance with the needs of your market segments, buying cycles, industrial competitiveness, and overall objectives. In other words, rather than highlighting the difference between SEO and SEM, your digital marketing methodology should focus entirely on how these strategies can operate in conjunction with one another.
If you are still wondering what is the difference between SEO and SEM and how the concepts of SEO Vs SEM can be applied on a real-time basis, you can gain more knowledge about it, by registering for an online course .
Looking to sharpen your digital marketing skills? Join our top-rated professional diploma in digital marketing today!
To learn more about how Upskillist can help you click the button below :