How to Dress an Apple-Shaped Body
The apple-shaped body is often associated with plus-sized shapes, but really, an apple body type can be any size or weight. Many will tell you that it's harder than the other body types to style, but that's not true as there are many styles that make this body shape look and feel great.
What is an apple-shaped body?
The apple-shaped body typically has narrow hips with a slightly wider waist, bust, and shoulders.
Learn Fashion Design
Step into the fashion industry in style, and turn your passion for style into a career in just 16 weeks.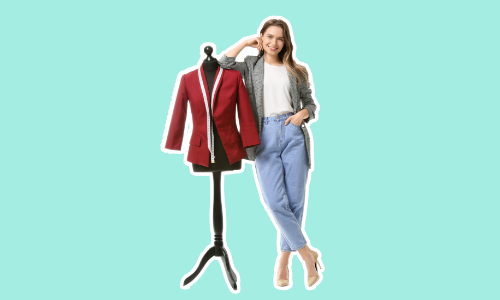 How to tell if you have an apple-shaped body
You can determine your body shape by measuring the following parts of your body:
Shoulders: Measure around the very top of your shoulders, just above the shoulder blades.
Bust: Measure around the fullest part of the bust without holding the tape too tightly.
Waist: Measure around the smallest part of the waist. Usually, this is just above the navel.
Hips: Measure around the fullest or widest part. Usually, this is just below the hip bone.
An apple-shaped body's shoulder, bust, and waist measurements will be the largest, with either a slightly smaller or similarly sized hip. If your measurements are uniform from top to bottom, and you have a fairly slender build, you may identify more with a rectangle body shape.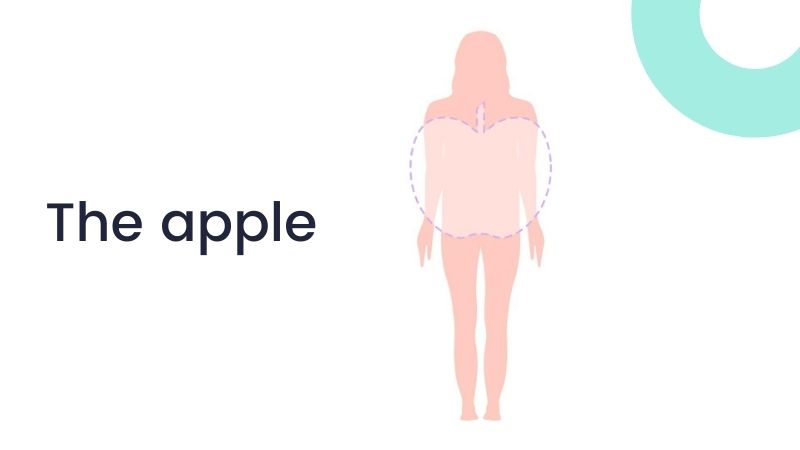 It's important to remember that bodies come in all shapes and sizes, and you may find you don't fit neatly into any of the four categories, or that your shape fluctuates with your weight. That's completely normal. The truth is, most people fit somewhere in-between: these body shapes and style tips are just guidelines, and ultimately you should wear anything that makes you feel good.
Celebrities with an apple body type
It's often helpful to take style tips from celebrities with a similar body shape. Celebrities with an apple-shaped body include Amy Schumer, Oprah, Mindy Kaling, Drew Barrymore, Adele, Queen Latifah, Kate Winslet, and Missy Elliott.

When it comes to styling apple shapes, life is really sweet. It is all about playing up the bust area and emphasising the arms and legs. Many women with an apple-shaped body feel the need to hide their midsection in oversized clothes. This isn't the way to go. When it comes to looking good, the most important thing is that your clothes fit just right. It doesn't need to be expensive either: learn how to create a capsule wardrobe and you'll be able to mix and match items to create great looks every day of the week.
A challenge for people with an apple body type is that sometimes clothing fits one part of the body well, but not the rest. For example, a dress that fits your bust may be oversized on your waist and hips. If you find this is a problem for you, don't be afraid to make alterations to your clothes. You can learn how to do this in Upskillist's online fashion design course.
Tops for an apple-shaped body
Many women with apple-shaped bodies feel the need to wear flowy, loose tops to conceal their middle section, but you don't need to do this. A-line silhouettes and V-necks look amazing on the apple frame, and they have the added bonus of being really comfy cuts too. Low-cut tops can show off your bust, as can wrap tops or empire cuts — which have the added bonus of adding definition to your waist. If you feel the need to smooth out your curves, choose high-quality, robust fabrics. Gathers and ruched sides can feel more flattering if you aren't comfortable in figure-hugging tops.
Trust your gut when it comes to sleeves. If you like your arms, go sleeveless. If you prefer to cover the arms, choose fitted sleeves over bulky ones to help balance your fuller bust and middle section.

Layers for an apple-shaped body
Unlike some of the other body shapes, the apple shape looks great when the hemline hits at the hip or the upper thigh, and layers can really bring your look together. You can also experiment with knee-length trench coats, A-line jackets, kimonos, or ponchos as outerwear.

Dresses for an apple-shaped body
Maxi dresses with a lower neckline or even strapless dresses are a great way to show off your bust. A-line and wrap dresses can be your secret weapon. You can wear a cami underneath to make the look more work-appropriate. Dresses that nip in below the bust also look great on apple-shaped bodies.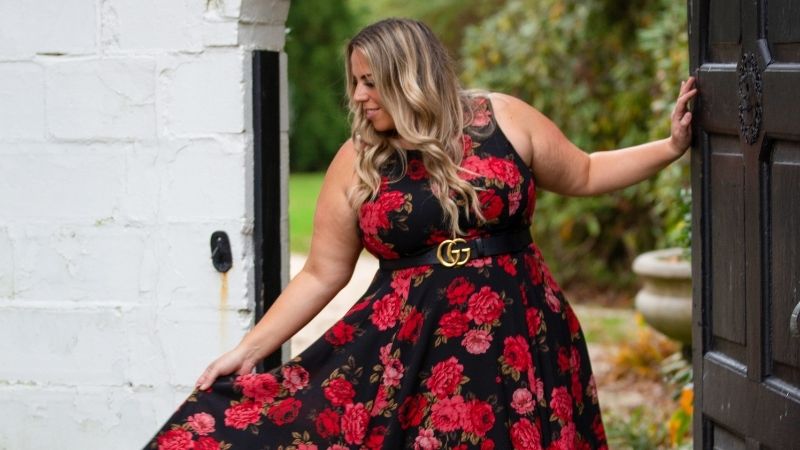 Accessories for an apple-shaped body
When choosing accessories, go bold! Choose chunky statement rings and lots of bangles. Long necklaces help to elongate the figure. If you have opted to wear darker tones, this is also a great opportunity to bring some pops of colour to your look.
Bottoms for an apple-shaped body
Skinny jeans and leggings look stunning on an apple-shaped body. If you want to elongate and balance your figure a bit more, go for the classic bootcut or flared pants. If you're wearing something flowy and oversized on top, wear something more structured or fitting on the bottom to balance your look. High-waisted jeans, shorts, and skirts can help define your waist.
Wedding dresses for an apple-shaped body
The ball gown works for all body types. It balances your torso and your bust and gives some definition to the waist. If you are bigger in the bust area, avoid strapless styles as the dress most likely won't be able to give you the necessary support.
The A-line gown will also suit your type because it creates curves. It also flows over the lower body, rather than clinging to it.
The empire gown suits the apple because it accentuates the bust, tucks in just below it, and flows over the rest of the body.
Want to learn more? Join our Fashion Design course today and get a free 4-week trial.
Join 12+ million students who already have a head start.
Sign up today and get 4 weeks free!