10 Great Benefits Of Social Media Marketing Every Business Should Know
Social Media Marketing is the new buzzword in the industry, and it is considered not just by individuals or B2C (Business-to-customer) focused enterprises, but also by B2B (Business-to-Business) players. According to a Hubspot report, there are great benefits of social media marketing, and 92% of businesses confirmed generating more exposure, while 80% increased traffic for their sites.
With over 2 billion active social media users around the globe, the benefits of social media marketing are immense to interact with customers and build overall social media strategy. If you are a marketer or a business contemplating the advantages of social marketing, here are 10 great benefits of social media marketing for enterprises to consider:
Increased Brand Awareness
Gaining brand awareness is one of the premier benefits of social media marketing. With the high rate of users turning to social media and online mediums to search for their requirements, having an online presence allows brands to easily reach out to target customers and build brand awareness.
According to research, 54% of users browse social media to search for new products, and 76% purchased a product they've seen in a social media post.
Improved Search Engine Rankings
If brand awareness and customer engagement are significant factors leading to a brand's success, Search Engine Optimization (SEO) is important to achieve it, as it allows your brand or offering to reach a wider audience. SEO affects how many potential users will be showcased your products or brand if they search for a keyword similar to your business or offering.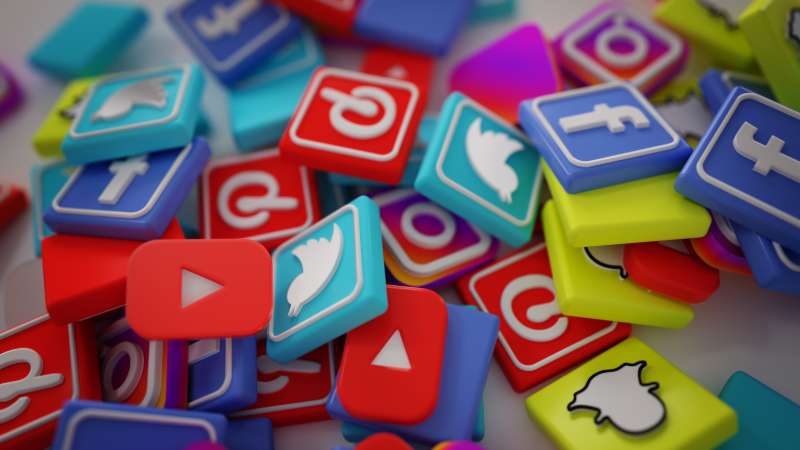 In fact, over [58%][9] of marketers who have used social media for more than a year noticed an improved search engine ranking and saw significant benefits of social media marketing.
Easy To Connect With Customers & Address Issues
Especially for B2C organizations, the benefits of social media marketing include customer connect and grievance redressal. [Social media][10] allows immediate interaction and customer feedback, with nearly [half of US][11] customers using it to ask questions about products or services.
Customers are more likely to trust brands that are quick to respond to their queries or are readily available when they reach out. Making it easy for your customers to reach your brands is important, and thus, one of the key benefits of social media marketing.
Get Client Feedback & Gauge Sentiments
While marketing consists of speaking about your brand and products, listening plays an important role in social media marketing. The benefits of social media marketing are invaluable insights and sentiments that brands can get by looking at customer activity and opinions. This helps create effective marketing outreach and helps amend the company's strategy to fit with the target group.
[90%][12] of customers are more likely to engage with the posts that embrace the company's personality, making customer-centric brand understanding the key benefits of social media marketing.
Direct Traffic To Increase Revenue
One of the many benefits of social media marketing is the platform's ability to drive traffic to your brand's website or app download. A social media presence is a great gateway to get inbound traffic and acquire new customers, as it is the melting pot that incorporates different customer segments.
Customers prefer to do business with companies that are interactive online. Studies around the advantages of social marketing have shown a higher lead-to-conversion rate for brands that were using social media marketing.
Gain Marketplace Insights
While the benefits of social media marketing are great for [brand communication][13], feedback and customer outreach, gaining insights on the marketplace is an important plus. By monitoring what your customers expect, what your competition is doing and if there are additional opportunities for your business to grow, your organization can get valuable insights to help in creating brand strategies and create products or services catered to it.
Monitoring the competition on social media helps to keep you aware of your competitors' new products, promotions, and reports or data.
Targeted Advertising
Advertisements have evolved over the years, and today, thanks to the availability of customer data and behaviour, targeted advertising is preferred as social media marketing is a powerful tool to reach out to specific customers. Social media marketing enables brands to target their ads depending on demographics, geography, language, behaviour, patterns, search history and more. This helps to ensure that your brand is always on top of your customer's mind and is one of the best benefits of social media marketing.
It is no wonder that [73%][14] of marketers feel that it is effective, and there are wider benefits of social media marketing.
Become A Thought Leader
Customers no longer just fall for good advertising, and some are even wary of falling into the trap of advertising. But that's no reason to worry, for the benefits of social media marketing include the ability to reach out to your potential customers through informative and insightful content.
Being a thought leader allows you to share your experience and knowledge while enabling your customers to make better and well-informed purchase decisions. When your campaigns and posts are aligned to highlight what your customers want, they are more likely to trust you than believing an ad campaign. To get the benefits of social media marketing, make sure you have good quality content through [blogs][15], whitepapers, videos, and external media articles to [showcase your brand's knowledge][16] about the industry.
Partner With Influencers To Promote Products
For most industries, there are already thought leaders and thanks to social media, influencers who have been sharing their expertise and knowledge of the industry to gain a strong following and network. If you want to [take your brand to go viral][17] and reach out to these social media influencers and get them to spread the word.
While leveraging influencers and partnering with the right contacts provides effective outreach and great benefits of social media marketing, make sure to convince your partners rather than pay them. If the influencer is seen to be blatantly promoting a product, it can have a negative effect too.
Re-targeting Customers To Drive Sales
According to research, nearly [70%][18] of online shopping carts are abandoned. However, not all customers who leave the cart without making the purchase do so because they are no longer interested in your products or services.
The top benefits of [social media marketing][10] include the ability to reach out to [potential customers][19] who have abandoned carts for many reasons, maybe to buy later, save items they are interested in while browsing for more options, or just another browser crash. Retargeting helps brands reach out to customers who are already familiar and interested in their products and help drive purchases.
Want to learn how you or your business can gain the many benefits of social media marketing? [Take a course][20] to learn the benefits of using social media for marketing, understand social media platforms, audience segmentation, and build your sales funnel to generate higher revenue. Build a solid foundation in the world of social media and start learning today!
Looking to sharpen your social media marketing skills? Join our top-rated professional diploma in social media marketing today!
Join 12+ million students who already have a head start
Sign up today and get 4 weeks free!
No commitments. Cancel at any time.