Top 10 Best Photography Reflectors: Buying Guide
Picture this: After months of research and saving up, you've assembled the perfect DSLR and lens combination, and are all set to capture some truly unique memories. However, something seems to be missing, and no matter how hard you try, you just can't seem to replicate the quality expected of the lens and the camera.
Why didn't things pan out like they should have? Well, there is one good reason why.
You've overlooked a critical element in your setup, which is the light reflector. Indeed, it would be most prudent to focus (no pun intended) your attention on getting the best light reflector, as they can immensely improve the lighting factor in any giving setting.
Having said that, there are many kinds of light reflectors and brands that you can choose from. While a light reflector is essentially a cut of reflective fabric on a portable frame, the fabric itself comes in different colors such as white, black, silver, gold, and a translucent version, each of which will create a unique lighting effect. Also, the most common type used is the '5 in 1' photography light reflector, which consists of all five of the aforementioned colors, each of which can be used as the reflective medium.
So, which are the best photography light reflectors that can complete your gear? Let's find out!
Selens 5-in-1 Handle 43-Inch Light Reflector
Selens 5-in-1 Handle 43 Inch reflector
This Selens 5-in-1 is an easy-to-use light reflector that seems perfect for beginners in the field. The zip design makes it easy to switch between the different colors, and the frame plus handle assembly is super sturdy, thereby making it highly portable. The portability makes it an ideal choice for casual and outdoor photography projects. Plus it's easy on the wallet too. All you've got to do is pair it with a sturdy photography reflector stand and viola!
Neewer 43-Inch 5-in-1 Light Reflector
The Neewer 5-in-1 is one of the most affordable yet reliable photography light reflectors out there right now. It's pretty easy to use as well, and lets the user switch been five reflective color options, namely black, gold, silver, white, and translucent. All the working components are made up of super durable material too, so what you get is something that will really last you for a long time. This light reflector is ideal ****for beginners looking to do some outdoor photography.
Etekcity 24-Inch 5-in-1 Light Reflector
The Etekcity, 24-inch light reflector is renowned for its portability and high quality of build materials. While the above reflectors measured in at 43 inches, the Etekcity is almost half the size but makes for a great option for travelling photographers. Also, if there is a solo project which requires you to shoot with one hand and hold the light reflector from another, this is probably the one you should check out.
**Neewer 5-in-1 24-Inch Portable Triangle **
Newer 5-in-1 24 inch Portable Triangle
Learn Photography
Master the fundamentals of photography, from the basics to advanced techniques, and become a professional photographer.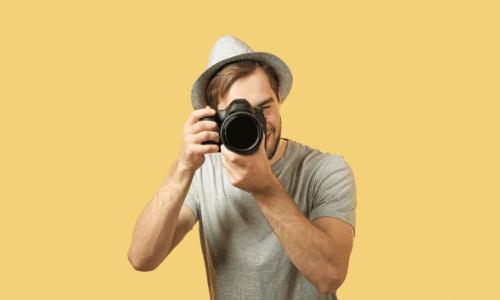 While the previous three photography light reflectors were circular in shape, this one is quite a useful triangle. Now, due to its small size, it is best suited for projects which require light to be cast on a small object or setting. In addition, it is also great for solo projects which require you to hold the light reflector in one hand. It scores high on portability, durability, performance, and is affordable too. It may look tiny, but boy is it handy!
Phottix EasyHold 43-Inch 5-in-1 Light Reflector
This collapsible light reflector comes equipped with a reversible cover with silver, black, gold, and white surfaces and a translucent disc. Additionally, as the name suggests, the reflector comes with a pair of ergonomic handles that make it really comfortable to hold in a series of angles. Plus, it folds over to a third of its diameter, so it is really portable, too. Go for it if you're looking for an affordable and highly portable light reflector that doesn't compromise on the comfort factor.
Lastolite 30-Inch TriFlip 8-in-1 Light Reflector
This one is for those who want to take their photography game to the next level. An 8-in-1 light reflector, it comes with three extra color surfaces to expand the horizons of your lighting and shadowing endeavors. The seven different surfaces are white, silver, white-silver or soft-silver, black, gold, sunlight or silvery gold, Sunfire or darker gold, and finally a translucent disc. It is super comfortable to use thanks to its ergonomic handles and is durable as well. Quite simply, one of the best photography light reflectors you can buy!
Westcott Omega 10-in-1 in Light Reflector
There are 8-in-1 kits, and then there are 10-in-1 kits like the Westcott Omega, which takes to the next level if you're up for it. This light reflector comes equipped with the five traditional color surfaces seen in 5-in-1 reflectors, along with five additional surfaces, which are the translucent diffuser, black block, reflective white, reflective silver, and reflective sunlight surfaces. In addition, it also comes with a 2:3 removable centre frame which allows you to shoot through the light reflector and experiment with some cool light settings. It's priced on the higher side, but if you're looking to go professional, this one is for you.
Westcott Eyelighter Reflective Panel
The Westcott Eyelighter Reflective Panel is to light reflectors what Rolls-Royce is to cars. A truly high-calibre product, it features a reflective silver surface that is arc-shaped, which provides a truly stunning lighting experience. It comes with a durable aluminium frame and is suitable for exclusive events such as parties, anniversaries, corporate events, etc.
Lastolite HaloCompact Light Reflector
If you're looking for a no-frills, portable light reflector, then this is your best bet. It comes with just a few color options (silver/white and a translucent diffuser) and is super light to carry. Moreover, it folds to a third of its size, so that you can carry it around with ease. Have a tight budget and have an outdoor photography project coming up? This light reflector is a good choice.
SRB 5 in 1 Collapsible Light Reflector
SRB's 5-in-1 collapsible photography light reflector is focused on one thing alone: functionality. There are no handles in this one; it just comes with a collapsible frame with five color options (white, black, silver, gold and translucent). This is the go-to option if you're really tight on the budget, and are looking for a sturdy, effective light reflector that will get the job done.
To Conclude
All in all, a good light reflector can certainly go a long way towards improving the quality of your pictures. However, if you're really looking to maximize the potential of your gear and your passion, the right photography course can help you do just that. Not only will you learn the foundational knowledge and techniques behind the art, but also expand the horizons of your thinking towards it. You can check out the wide range of best online photography courses offered by Upskillist to get further clarity.
Join 12+ million students who already have a head start
Sign up today and get 4 weeks free!
No commitments. Cancel at any time.
To learn more about how Upskillist can help you click the button below :