Photography at Home – 10 Cool Ideas During Lockdown
The COVID-19 pandemic has created a massive emergency for every individual across the world. Our regular lives have been disrupted and changed to the extent that we probably couldn't have imagined in the past. While this life seems like it is straight out of an American thriller, there are a few very unexpected advantages of this!
Most of us are working from home, distancing ourselves from each other in a bid to stay healthy and safe. While you are sitting around at home, there are several things to do in a lockdown, such asexperimenting with recipes or learning a brand new skill. One way to spend your time productively is to try photography at home.
Recommended for you: Become a pro at Photography with our online course. Join today and get the first 4 weeks for free!
You can experiment with your camera and challenge yourself to click a few unique photos around your house. The best part is that you don't always need a professional camera to do this. Your phone camera would be sufficient to practice these photography ideas at home!
We are going beyond easy tasks and giving you some interesting ideas to try out at home. So, pick up your camera and try these ten photography ideas at home!
1. Shoot Your Food
This lockdown has given you a lot of opportunities to learn and experiment with new dishes, and it's time for you to get them Instagram ready. If you want to try photography at home, thenplate your food beautifully, take your camera out and get snapping!
Another interesting photography idea at home would be to photograph the preparation stage and not just the finished products. The messy kitchen counter with your prep going in full swing can be the premise for some beautiful clicks.
When attempting this type of photography at home, try to get good and even lighting to minimize shadows.
2. 26 Letters and 26 Photos
For some challenging photography at home, this idea will truly test you as a creative. Here you have to find subjects around the house that correspond to each of the 26 letters of the alphabet!
Photographing the obvious subject might be easy, but finding unlikely subjects are challenging to spot and truly test your "photographer's eye." The best part about trying photography at home is to see what you come up with for the more difficult letters like Q, X, and Z.
3. Go Monochrome
Taking black and white photos is a unique challenge. Black and white photography at home requires you to look for elements such as textures, lines, patterns, shapes, as well as light and shadow!
In the absence of colours, all these elements become essential tools for creating great photographs, whether it's black and white or colour. Small details are relevant and go a long way in making your art look breathtaking.
4. Photography Scavenger Hunt
This fun photography idea at home encourages you to search for fascinating objects to pick and shoot from! If you live with your family, you can ask them to nominate objects that they want you to shoot. If you live alone, you can get your friends to pick out the objects for you.
You can go around the house, find these objects, and figure unique ways to photograph them. Taking up an online courseto brush up your skills and improve your photography at home would also be a great idea.
5. Get Some Practice in
Of the various things to do in a lockdown, practicing photography at home with your DSLR can significantly improve your skills. Master the technique of shallow depth of field in photography, an important skill in portrait photography that helps you blur out the background and put all the focus on your subject.
When practicing DSLR photography at home, you need to open your camera's aperture as wide as possible and place the subject at a significant distance from the background. Then, place your camera close to them and take a photo! This is guaranteed to give you that blurred background and focused picture.
Learn Photography
Master the fundamentals of photography, from the basics to advanced techniques, and become a professional photographer.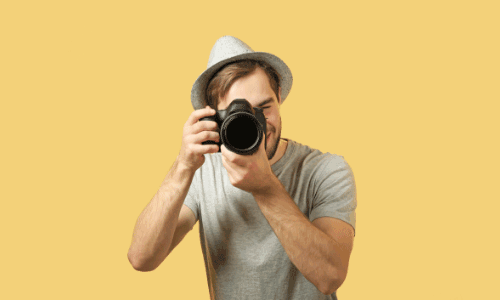 6. Mix up Your Lenses
If you use a DSLR for your photographs, you know how important it is to use the correct lens for the correct photo. But when experimenting with photography at home, you need to use the wrong lens to find out how creative your photography can be.
Use a telephoto lens to photograph your pet or use a wide-angle lens to shoot your cousin instead of a portrait lens. You can also choose a macro lens to shoot your backyard garden. This photography idea at home is a means of giving you a brand new perspective of looking at the usual things!
7. Lower Your Eyes
Our natural tendency while clicking photographs is to look at eye level. But you can spice up photography at home by changing the angles of your photo and bringing in new points of view.
Go ahead and take a bird's eye view of your bed or shoot a laydown shot of your breakfast. This photography idea at home helps you understand how to balance lights and shadows in different scenarios, making it a fun learning experience.
8. Go Minimal
In our everyday life, we are constantly bombarded by a million visual stimuli. So, when you try photography at home, isolate that one single focal point of your photograph and cut out all the clutter around it.
Minimalist photography at home is a tough exercise because it requires the photographer to isolate one stimulus and click photographs focussing on one strong subject! Every photo benefits from a strong subject, so even if it's not minimalist in its true sense, you would definitely click a brilliant set of photos!
9. Play With the Light
Low light photography at home is a great skill to master when you have ample time in your hands. This will inevitably teach you how to adjust shutter speed in photographs, ISO, and aperture, helping you click photos in all light scenarios and not just when the light is low.
10. Find Beauty in the Everyday
As a photographer, you might constantly be looking for a brilliant inspiration to photograph. However, a lot of beauty lies in the simple and the mundane, especially when it comes to photography at home. This will require your skills as a photographer to truly bring out the beauty of your subjects.
The nine exercises that you have already done before will also serve as a learning and inspiration for you to ace photography at home.
Concluding Thoughts
The COVID-19 situation can be upsetting but it has also provided ample opportunity to do those online courses that you've been putting off for so long. With a little motivation, you can actually end up learning and growing from this experience as an artist! If you've been meaning to try photography at home, lockdown is the perfect time to give it a shot. Take an online photography course at Upskillist, and you will find time flying by in a wink!
Looking to sharpen your photography skills? Join our Best Photography Courses today!
Join 12+ million students who already have a head start.
Sign up today and get 4 weeks free!
No commitments. Cancel at any time.
To learn more about how Upskillist can help you click the button below :