Best Pre Wedding Photoshoot Tips and Ideas
Weddings are a time when rituals, ceremonies, celebrations, and emotions all run loose. Often, amid this brouhaha, the feeling of being "married" fails to sink in for the couple. This is the reason why more and more couples are opting for pre wedding photography.
These pre wedding photoshoots are not only a great way to cherish precious moments but they also give the 'to-be-wed' couple some quality time together. The hours that the couple spends posing and pouting for the camera prepares them for the journey that lies ahead. There is no better way to experience togetherness than making memories that last a lifetime.
With the increasing popularity of pre wedding photography, it is important for it to be done professionally to have the power to bring a couple's memories to life.
There are many things that can go wrong while doing a pre wedding photoshoot. Here, we will discuss what you must focus on while doing a photoshoot.
Talk It Out
Before starting with the pre wedding photoshoot, it is always good to discuss with the couple their expectations from the photoshoot. Some couples like simplicity while others might want their pre- wedding photoshoot to be larger than life. Also, ask the couple if they have any theme in mind or if they would like to incorporate some important element in the photoshoot like their favorite hangout place etc. This discussion before the pre wedding photoshoot will ensure that you get clarity regarding what the clients want and thus, be successful in meeting their expectations. It is also good to discuss the charges, inclusions and exclusions before finalizing a booking.
Location Search
The next step after discussing with the couple regarding the kind of photoshoot they want, is to search for good locations. Dramatic shots look great with a heritage structure in the background while candid and natural shots work great in crowded places like parks, malls, etc. As a wedding photography tip, make sure that your client is happy with the location as sometimes camera-shy people might feel uneasy in crowded places and the pictures will not turn out to be good. It is always good to have a list of locations handy along with information regarding its fees (if any), timings and days open. Always brainstorm and be creative, this is one pre wedding shoot idea that will take you a long way.
Using Longer Lens for Better Shots
Another wedding photography tip is a trick every professional photographer would be familiar with as using a longer lens creates beautiful and flattering pictures with a blurred background. With a longer lens, the focus is naturally on the subject and as the photographer does not have to stand close for a shot, it gives the couple a chance to be at ease. Using an 85mm or 200mm lens is best for taking long shots and add a great bokeh effect to the clicks along with putting the focus on the couple.
Learn Photography
Master the fundamentals of photography, from the basics to advanced techniques, and become a professional photographer.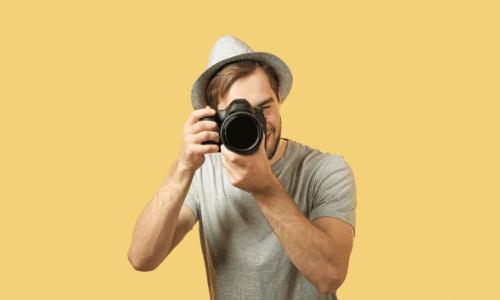 Burst Mode for Candid Shots
The best pictures are the ones that are natural. For getting the perfect candid shot, a great tip is to use burst mode shooting. When the camera captures their every moment before and after the pose, the photographer is bound to get that one perfect shot which sees them relax and become their natural selves. But, always remember to adjust the camera's shutter speed before taking shots in burst mode as this will help avoid any motion blur. Here is one wedding photography tip, the shutter speed should be adjusted as per the lens, as a longer lens requires higher shutter speed.
Going Beyond the Face
Pre wedding photoshoots are not only about portraits and perfect posing. Sometimes taking the focus away from the face and capturing small moments like entwined fingers with engagement rings, feet on the sand or watching the sunset with their back towards the camera can also make for beautiful shots. Explain to the couple before taking these shots and they will be more forthcoming regarding shots where their faces are not featured. Most of the couples depend on the photographer for creative ideas and guidance.
Check for the Right Angles
People are generally critical of their photos and when it is something as important as a pre wedding photoshoot, the self-deprecating levels know no bounds. So, ensure that the angle you use to click the shots captures the subject in a flattering manner highlighting all their right features. Keeping the camera at eye-level is the perfect way to click a beautiful click but you can get creative with the angles and see which shot works the best. Taking shots from a higher angle makes the subject look taller and slimmer and can be used to get the perfect flattering angle. Side profile clicks also look great and accentuate the right features in the subject.
Dramatic Effects
Some of the pre wedding photography shots look great with dramatic effects. The best way to add drama to the shot is by using back-lit shots and get some great angles of couple. The backlight can be natural light or artificial and the choice to use it depends on the photographer. It is best to chose one which makes the scene look bold and bright. Photographers also use artificial flash in the background, especially in the dark, to click snaps where the silhouette of the couple is captured. It is important to decide if the couple wants their snaps clicked in the daylight or night as both require different kind of lighting and effects. Some photographers convert a mid-day click into a sunset shot while others use creativity to turn background flash into falling stars effect.
Guiding Force
Most of the couples who come for the photoshoot do not have any experience with photography or pre wedding photoshoot ideas. Thus, it is the responsibility of the photographer to first put them at ease and then guide them with how they should pose, where they should look and what they should do with their hands! Also tell them which smile works and what looks fake. Suggestions regarding dresses, shoes, makeup and hairstyle can also help the couple look good while elevating the photoshoot. This will help the couple feel comfortable and get more at ease as the shoot progresses. A pre wedding photoshoot is one of the most important events in a couple's life and it is the photographer who can help them nail it.
What Is Your Story?
Make the pre wedding photoshoot interesting by asking the couple about their story, how they met, where they hang out, about their personalities, likes, and dislikes. And if possible, take shots at those places and try and tell their story in the pre wedding photoshoot. It is always good to make the photoshoot personalized rather than just putting together a few shots. The photoshoot will immortalize their love story and become a memory they will always cherish.
To Conclude
These were some of the best wedding photoshoot tips which can be used to create beautiful memories. Besides getting photographs clicked, the bride and groom also request a video to be shot which shows them dancing or walking through some beautiful locations. Beautiful people do not make great snaps, beautiful moments do.
Looking to sharpen your photography skills? Join our top-rated professional Diploma in Photography Course today!
To learn more about how Upskillist can help you click the button below :