8 Places to Find Cheap Photography Props
Whether you are a product photographer or a newborn photographer, props can often make a big difference in your photographs; however a quick look through a photography supply store website will have your wallet crying out for help in no time. While there are some props that are worth spending more on, and others that you can't find outside of prop stores, there are alternatives. By finding props that aren't as expensive, you can either save some cash, or pick up more items for more variety to your shots. So where are these seemingly mythical places that offer cheap photography props? Actually, many are probably right in your neighborhood. Here are eight places to find cheap photography props.
Craft Stores
Craft stores are great places to pick up props. By-the-yard fabric works great for adding texture and colour to a newborn photo shoot, or even as a small backdrop for a single person or small products. Baskets and bins are easy to find here, as well as chalkboard signs. Flowers, burlap, and headbands are also easy to find for a good price here. Most craft stores offer coupons, so do a quick online search before you head in to the store.
Hardware Stores
** **While props from hardware stores may require some assembly, you can save quite a bit by checking a hardware store first. Wood paneling, the kind that's sometimes used on walls, can work as a faux floor in a pinch. Reflective white plexi makes a great backdrop for product photography. Don't have a backdrop stand? You could even make one from plastic piping. Walk through a few aisles, you may be surprised but what things offer great prop inspiration.
Garage Sales
** **Many people start to throw out items when the paint starts to peel, and yet photographers are paying big money for a rustic-looking prop. Garage sales are great places to find props. While scouting garage sales requires a much bigger time commitment, you can find great props for just a few bucks. Old suitcases, chairs and trunks are often common props you can find at garage sales, though of course that varies based on where you stop, so treat it like a treasure hunt and have fun.
Learn Photography
Master the fundamentals of photography, from the basics to advanced techniques, and become a professional photographer.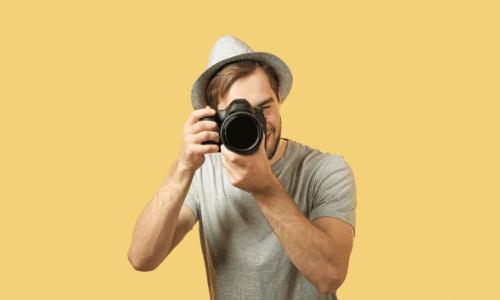 Thrift Stores
** Consider thrift stores like year-round multi-family garage sales. While you may head to a thrift store and come away with nothing, you could also find some gems for just a few dollars. Household items that double as props, like baskets and vases, are often easily found at thrift stores. Many thrift stores are also owned by non-profit organizations, so you can both find props and help out a good cause at the same time.
Flea Markets
Think of flea markets as several garage sales in one place. Flea markets are great for finding props, and they don't require as much time as stopping to multiple garage sales. Older items are often found in abundance at flea markets. Crates, trunks, chairs and more are often pretty easily found at flea markets.
Craigslist
If you are looking for something specific, you could waste a lot of time scouting garage sales and thrift stores with no luck. Online classified sites like Craigslist are searchable, so it's easier to use to look for something specific. If you don't find it, you've only wasted a few minutes instead of an hour. Of course, you can also browse through postings searching for prop ideas, or post a wanted ad for exactly what you are looking for.
Estate Sales
** **Much like garage sales, estate sales are good places to find props, though they can be quite hit or miss. Estate sales are good places to find vintage items, as well as larger props like chairs and settees for posing people. Just like at garage sales, don't be afraid to offer a lower price if you don't quite think it's worth what they are asking.
Etsy
Want a DIY prop, but have no time to actually do it yourself? Etsy (Link: www.etsy.com) is a good place to shop for props, and many Etsy stores are dedicated prop stores catering specifically to photographers. While Etsy may be more expensive than shopping garage sales, it's often still cheaper than big prop companies. Most items on Etsy are handmade, so it's a good place to find crocheted hats for newborn photography, woodworking items, rustic tabletops for food photography and more. Since it's searchable, it's also a faster method of shopping for a specific prop.
Props can make a big difference in many types of photographs, but they're often expensive. To find inexpensive photography props, try searching craft and hardware stores, garage and estate sales, flea markets, thrift stores, Craigslist or Etsy.
Looking to sharpen your photography skills? Join our top-rated online photography course today!
To learn more about how Upskillist can help you click the button below :