5 Online Music Theory Courses You Need to Check Out
Music theory lessons can open up a world of incredible possibilities. Sure, you can always learn a song or a tune by ear, but if you learn music theory, you can have the tools to create your own music.
Recommended for you: Learn music theory online — free for the first 4 weeks!
Music theory lessons are a great add-on if you want to read sheet music and increase your versatility of playing an instrument. Moreover, the benefits of music theory extend to jamming with professional musicians and analyzing nuanced compositions and arrangements to help you take inspiration.
Having said that, you don't have to rely on expensive and time-consuming courses to learn music theory. There are some genuinely fantastic online music theory courses that can help you learn the tricks of the trade, in incredible ways.
Here's a rundown of the best online music theory courses out there.
Learn Music
Learn the basics of music theory online, and master the theoretical basis of western music, from the blues to pop, metal, and more.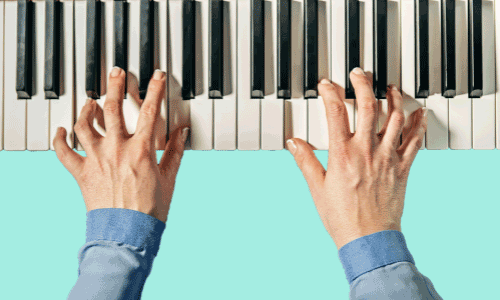 1. Coursera's Fundamentals of Music Theory
Coursera's online music theory course is a fantastic option for those who have no background in music. This course is provided by the University of Edinburgh's Reid School of Music. The course aims to cover the fundamentals of Western music theory, right from the basics to advanced musical concepts. Topics covered include an introduction to music theory, basic harmony, Western music notation, pitches and scales, intervals, rhythm, etc. At the end of the course, there will be a practice exercise and a final exam.
Upon completing this online music theory course, you will be awarded a certification from Coursera, in association with the University of Edinburgh. A great option if you're looking to learn music theory from scratch, and are looking to bag a certification at the end of it all.
2. Udemy's Music Theory Classes
Udemy's Music Theory Classes are designed for beginners and experienced musicians alike. That's because their online music theory course covers an extensive range of topics. From the science of music to chord structures, different types of musical intervals to scale structures, and of course, the knowledge of how to read and write music – you'll be going through an in-depth masterclass.
One of the best aspects of Udemy's music theory online course is that they cover ear-training, so that you'll be able to identify chords, harmonies, and melodies with ease. Imagine listening to your favorite tracks and instantly recognizing the chords and the structure behind it all! It's a pretty neat skill to have.
If you're looking to learn music theory from the beginning, and then perhaps go deeper as you progress, then this online music theory course is for you.
3. Berklee College of Music's Music Theory 101
When it comes to music theory online, the Berklee College of Music is not the first option to come to mind. The mecca of music theory lessons has been around since 1945 and has seen some truly incredible musicians and eminent instructors pass through its halls. John Mayer studied here, and so did Steve Vai, Charlie Puth, and Ben McKee, the bassist for Imagine Dragons. But you need not attend Berklee to learn music theory – you can take advantage of their online music theory course! It's called Music Theory 101, and it's authored by Paul Schmeling, who has been with the institute since the year 1961 and has inspired countless students ever since.
The online music theory course itself is quite comprehensive. It covers both fundamentals and advanced concepts, ranging from rhythm, pitch notation, major and minor scales, to chords, scales, inversions, and melody writing. Costing at $1249 for the 3-credit degree course, and $1099 for the non-degree program, this online music theory course doesn't come cheap, but then again, you'll be learning from the very best. Moreover, there are interactive sessions, personalized feedback sessions, and class discussions included in their music theory lessons, so you'll definitely be getting your money's worth.
4. Yale University's Music Theory
You must be thinking that this online music theory course costs a lot, right? Well, think again! Because these music theory lessons are actually a YouTube playlist, spread across 23 lectures.
And that's not the only unique aspect of their online music theory course! While most classes begin with an introduction to Western music theory, they start by teaching you how to listen to music. According to the instructor, Craig White, by properly listening to harmony, melody, and rhythm, one can understand the strategies that lie behind great music.
While this course is certainly 'offbeat', in the sense that you won't receive certification, it will undoubtedly help you learn music theory in an exciting manner.
Irrespective of whether you've just picked up your first guitar, or are a seasoned musician, you can always improve your ability by taking up music theory lessons. There are plenty of music theory courses out there which have something for everyone, right from ear training to advanced soloing concepts and improvisation.
5. Music Matters Grade 1 to 5
This course focuses on Grade 1 to 5 of music theory. Understanding music theory is vital to all musicians.
Music Matters courses offer all the essential elements of music, starting with the basics of music theory, building on each of these topics, progressing through to practical exercises and key music theory topics, moving through to explore the many nuances of music theory and simple, understandable explanations detailing each, until finally you round off the fundamentals and move into more advanced music theory concepts.
There is a tuition fee starting from 160 Euros. Music matters also offers additional music theory courses such as Grade 1 to 8 bundle, advanced music theory, music composition and more.
Want to learn more? Join our top-rated Music Theory course today!
To learn more about how Upskillist can help you click the button below :